Hey Hot Cakes,
Mary and Amy are living in the same weird disaster limbo this week—Mary in New Orleans with meteorologists describing Hurricane Ida as "rare" and "rapidly intensifying," Amy with a ring of fires surrounding her California town. It's scary, but so far we're okay.
There's this period of time leading up to evacuation that we don't hear much about. People understand the idea of immediate crisis—water flooding in, fires blazing close, gotta get out, run. But it's hard to grasp the surreal stay-or-go limbo in the leadup to such moments. And the way that life just...continues, with disaster looming. On Friday morning, two days before Ida's projected arrival, Mary had her damn water go out for reasons entirely unrelated to the hurricane, so was watching the weather updates, planning evacuation options, getting supplies, all while waiting for the water company to turn the fucking water back on Amy had to go get dog food, and get to her kid's kindergarten orientation while keeping an eye on the wind and the smoke.
It reminds us of what it feels like in general to be living as the climate crisis makes itself known in a big way. Will we make a move early and be mildly inconvenienced but mostly okay, or will we wait for the flames at the door, for the floods carrying cars away? And if we wait, will we make it out alive?
Mary & Amy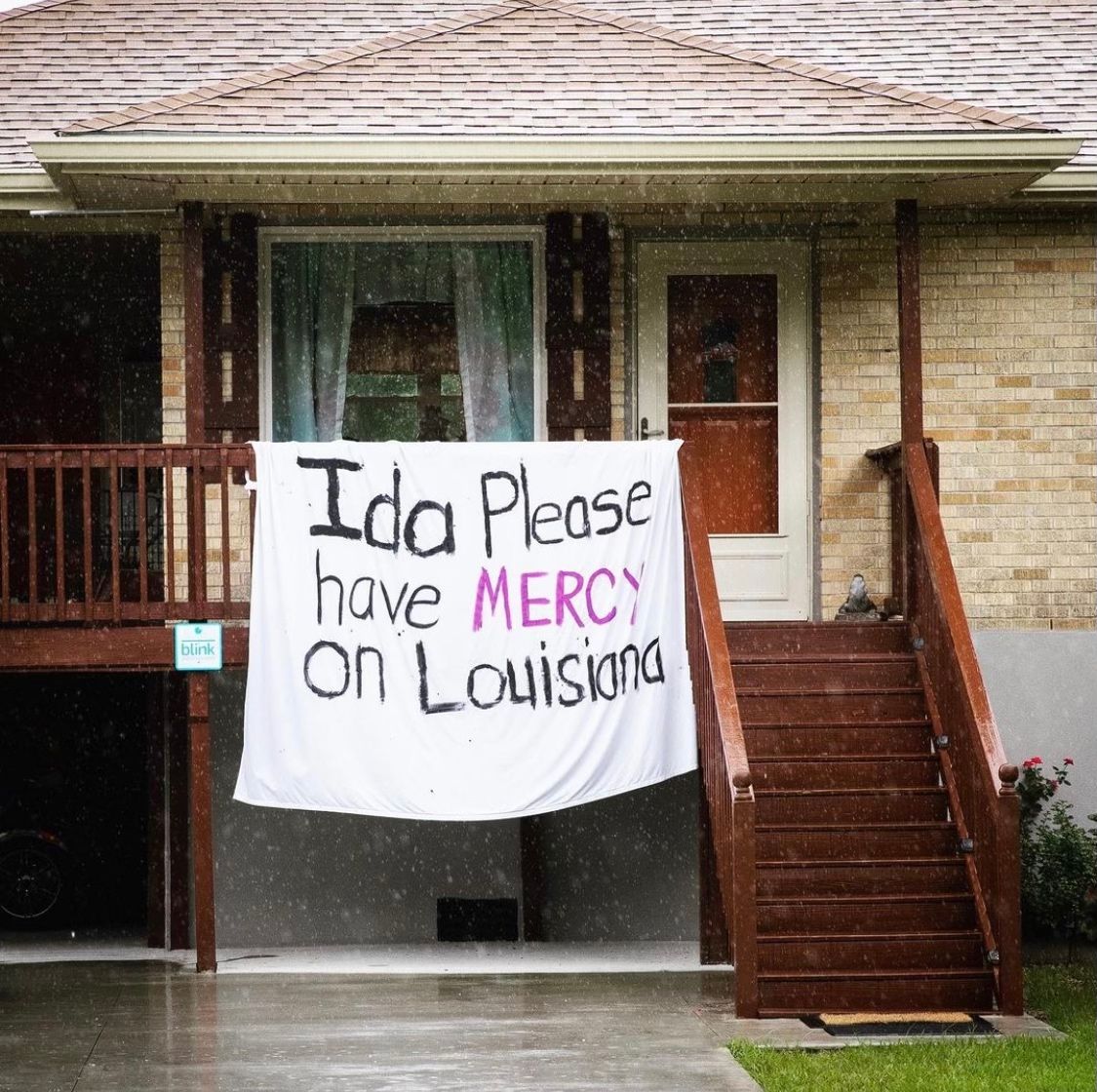 P.S. For the second week in a row, we're making the entire newsletter free this week. If you can, though, please support our work!
---
Destabilization Nation
By Amy Westervelt
Hello from the hotel where I am escaping the fires that surround my home. We weren't told to evacuate (yet), and I want to be very clear about the difference between literally  fleeing your home with flames at your back and packing up and shoving off because it's a little too close for comfort and you don't want to wait and see what happens when the wind shifts. The thing that did it for us was the AQI (air quality indicator) over 400. To put that in context, it's considered unsafe to be outside if the AQI is 150 or over. 400 and above is hazardous and it had been that way, sometimes jumping up over 500 (where the chart ends), for several days in a row. It smelled like a campfire, my lungs were hurting and I was struggling to breathe *inside* my house. Then, my five-year-old told me he felt like he was choking and I figured okay this seems like a situation to leave if you can. We could, so we did.
My kids are 5 and 9, and this is the second time in the last three years that we've left home because of fire. Both times I've tried to make it an adventure, a choice. I don't know if that's the right call or not and, frankly, I did it for me as much as them. I'm still not quite ready to accept what the rest of their lives will look like.
On the day we decided to leave, I had to postpone it a couple of hours because the school had an orientation for kindergartners. When they opened it up for questions, I asked what the plan was for smoky days and the principal said "I just got back from the district meeting and they've decided that 400 AQI or over we'll cancel school, 300-400 we *might* cancel it, it will be up to the district, and 150-300 we'll do indoor recess and lunch." Another parent asked if  that would increase the Covid risk. The principal heaved a big sigh. "It will, but we'll do what we can."
Another working mom asked, "You're not going to do remote school on those days, though, right? It will just be canceled?" Translation: I'm not going to suddenly have to take the day off to home school again, right? (I feel you, lady). "No, it will just be canceled. We'll call you at 5am to let you know, it will work just like snow days."
Except we don't really get those anymore, also because of climate change. The human capacity for adaptation is as remarkable as it is terrifying. Here we were, all masked up, smoke clouded like thick fog outside, asking these apocalyptic questions right alongside ones like "do we need to get them any school supplies?" and slides with the teachers' Amazon wishlists because yep, public schools are still underfunded and they need art supplies.
One of the kindergarten teachers had possibly the best advice for both the school year and for this new reality we find ourselves in: Meet each other, form a community, you're going to need to help each other out.
---
On the Eve of Ida
By Mary Annaïse Heglar
I knew where I was moving when I moved to New Orleans. I knew what happened here this time of year. But I wasn't ready.
I've been through hurricanes before. Sandy and Katrina come to mind. But with Sandy, I was in the Bronx, which is pretty well-fortified. With Katrina, we suffered at my mama's house, but were pretty far inland. It's different in New Orleans, surrounded by so much water. Dancing on the edge.
I've been deep in climate work for a while now. I've known how bad it could get for a while now. It doesn't surprise me that Ida is behaving the way she is—pulling from a bottomless pit of warm water in the Gulf and getting stronger than we can keep up with—it saddens me. It didn't have to be this way. But the sadness doesn't last long. Rage always wins. Someone made it this way.
It used to make me angry when I heard people say that New Orleans was resilient. It sounded like an excuse to abandon the city. "Don't worry about them, they got this." But now that I'm here and prepping for my first storm—which is, of course, a Category 4 on the anniversary of Katrina—I see it.
I have never, ever seen people care for one another the way I have seen in New Orleans. And remember, I am from the South. I'm used to people checking on their neighbors, but not like this. All I have to do in New Orleans is make eye contact with someone, and they will genuinely check to see how I'm doing. And I lived in New York for 15 years not because I hated it. I generally experienced New Yorkers to be very kind people, because we all knew at some point we'd be depending on the kindness of strangers. But in New Orleans, it seems, no one is a stranger. Everyone is a neighbor.
I don't have a car yet. At least four people offered me a ride out of town. Three people offered to go to the store for me. Twelve people offered "anything you need." I've been here a month, in a pandemic. I honestly didn't even know I knew that many people.
This, people, is what we need to face the climate crisis. We need to genuinely, deeply give a fuck about each other.
---
The Invisible Inmates
By Mary Annaïse Heglar
I know I talk about climate change and prisons a lot, and believe me, I wish I didn't have to. But I'm struck by how quickly they are erased in times of disaster. Earlier this week, I was reading about a disaster in Florida where inmates watched as livestock were moved to safer ground, but they, the human beings, were not.
When it comes to the California fires, I've only heard about prisoners in terms of their labor as damn near slave-firefighters. And now, apparently, there are child slave-firefighters. Yet in Susanville, California, where the Dixie Fire spurred mandatory evacuations, there was no plan to evacuate the prison, even though it is, for better or worse, the economic lifeblood of the town.
Here in New Orleans, I'm glad to hear that the City is planning to evacuate its jails. I have to hope that's a lesson from Katrina, where inmates were largely left to fend for themselves, locked into cells with the water rising and deserted by corrections officers.
It's important to know that there are no national standards for evacuating and caring for inmates—jail or prison—in times of inclement, or extreme, weather. Even as their labor is more and more critical to disaster management. While some states, at least Oregon, are coming up with their own plans, we have to start asking how prisoners have become the backbone of our disaster response plans, yet their own well-being in disasters is explicitly ignored. Whatever the reason, it's not an accident.
---
Digest
Your weekly roundup of climate coverage.
Rising Temperatures, Rising Tides
Hurricane Ida to Rapidly Intensify Into Major Hurricane by Brian Kahn for Earther
Greek Scientists Want to Name Heat Waves Like Hurricanes by Dharna Noor for Earther
Photos Show How the Caldor Fire Is Affecting Lake Tahoe by Brian Kahn for Earther
These Maps Tell the Story of Two Americas: One Parched, One Soaked by Aatish Bhatia and Nadja Popovich for the New York Times
How Record-Breaking Rainfall Flooded Middle Tennessee by Matthew Bloch, Scott Reinhard and Blacki Migliozzi for the New York Times
Hurricanes Get Names. What About Heat Waves? By Jenny Gross for the New York Times
Forests Used as Carbon Offsets Are Going Up in Wildfire Flames By Winston Choi-Schagrin for the New York Times
Is there calm after the firestorm? by Nathanael Johnson for Grist
North America's very wet weekend bears the fingerprints of climate change by Joseph Winters for Grist
Europe Seeks Solutions as it Grapples With Catastrophic Wildfires By Anna Gross, Daniel Dombey and Eleni Varvitsioti for ​​Financial Times in Inside Climate News
In a Summer of Deadly Deluges, New Research Shows How Global Warming Fuels Flooding by Bob Berwyn for Inside Climate News
Many measures of Earth's health are at worst levels on record, NOAA finds by Sarah Kaplan for the Washington Post
'Fire weather': dangerous days now far more common in US west, study finds by Maanvi Singh for Guardian
The Climate Presidency?
Biden Administration Restarts Oil and Gas Leasing by Molly Taft for Earther
How Should the Fed Deal With Climate Change? By Neil Irwin for the New York Times
Climate Accountability
Big Oil Coined 'Carbon Footprints' to Blame Us for Their Greed by Rebecca Solnit
Infrastructure plan: Congress advances clean electricity standard for climate by Rebecca Leber for Vox
Justice Is Justice Is Justice
Texas Unions Could Be the Green New Deal's Surprising Lynchpin by Dharna Noor for Earther
Greta Thunberg 'Urgently' Asks for Help Evacuating Afghan Climate Activists By Shoshana Wodinsky for Earther
Indigenous peoples are finally getting a say in global conservation policy by María Paula Rubiano A. for Grist
Glimmers of Hope
How Children Can Break the Climate Policy Deadlock, by Elliot Haspel for The New Republic
Climate Change Reporter Covers a Mix of Angst and Ambition By Katie Van Syckle for The New York Times
What Will Kathy Hochul Do for New York Climate Policy? More Than Cuomo, Activists Hope by Kristoffer Tigue for Inside Climate News
Climate in Culture
Air conditioning protects from heat waves — but also worsens climate change By Rebecca Leber
"The Giving Tree': How a children's book became a parable for the climate crisis by Kate Yoder for Grist
Sierra Club and Sunrise Movement react to criticism for toxic workplace cultures by Adam Mahoney for Grist
​​Penguin Classics launches 'new canon' of environmental literature by Alison Flood for the Guardian
Plus More
Social Media Is Becoming Saturated With the Climate Crisis By Brian Kahn for Earther
This Hauntingly Beautiful Image Shows Greenland's Massive Melt by Dharna Noor for Earther
Denser cities could be a climate boon – but nimbyism stands in the way by Maanvi Singh & Oliver Milman for Earther